Bluegrass Festival brings music to the streets of Downtown Blairsville
The SEBA Bluegrass Festival is held every September and includes live concerts on three stages with jamming all around town! Free & open to everyone, the SEBA Bluegrass Festival promises a fun-filled, musical weekend for residents & visitors alike. Book rooms early for this event.
Fundraiser for Relay for Life
The Great American Gut-Bustingly Serious Display of Undiscovered Natural Talent Extravaganza was held at the Georgia Mountain Fairgrounds Anderson Music Hall. All proceeds went to a great cause – the Relay for Life. Thanks to everyone for their support and participation!
Spring Arts & Crafts Festival draws artists to Blairsville's Town Square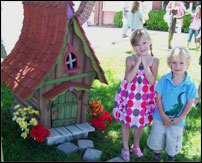 Season's Inn is right in the middle of the festivities! Guests appreciate the convenience and comfort of having a place to stay that is within walking distance of all the downtown activities. Planning a visit to Blairsville? Call Colleen at Season's Inn for updates on what's happening during your stay.
Night Before the Climb at Season's Inn Plaza
April 25, 2008 - Fans, visitors, and participants in the Tour de Georgia bicycle race were given a hearty welcome at the "the Night before the Climb" at Season's Inn Plaza. Visitors say, "We love Blairsville. We have been following the race for several years and have never been welcomed with a party like this before. Blairsville is really a terrific town. The people here are great."
Tour de Georgia in Blairsville
Blairsville hosts Stage 6 of Tour de Georgia
Tour de Georgia is North America's premier, professional cycling event and rolling festival of community activities. The Tour was first held in 2003 and has become a spring tradition with a varying route of over 650 miles of racing. Over 2.8 million spectators have traveled to Georgia to watch the international event. If you are planning on visiting Blairsville during the Tour de Georgia event, please make your room reservations early.
Downtown Development Authority of Blairsville Says Thank You!
Hometown Halloween was a great success due to the combined efforts of many people in Blairsville-Union County. The Downtown Development Authority would like to especially thank Colleen and Chris Urbaniuk, owners of Seasons Inn, who coordinated the event. Without their organization, dedication and networking with others in the community, the event would not have come together as smoothly as it did. Many volunteers gave of their time to ensure the event was a safe and fun environment for all participants. A pre-event planning meeting with the city and county law enforcement, emergency services and fire department helped coordinate all efforts. Additional thanks to Mayor Jim Conley, Police Chief Johnny Carroll, Assistant Police Chief Michael Baxter, Fire Chief Charles Worden, Sheriff Scott Stephens, Captain Scott Deyton and all other law enforcement and emergency services employees for their support of Hometown Halloween.
Seasons Inn Motel voted 1st official Business of the Month
Season's Inn owners Colleen and Chris Urbaniuk are actively involved in Blairsville-Union Chamber of Commerce activities, the Downtown Development Authority's Promotion Committee, and the Union County Historical Society.
Chris and Colleen are participants in the Great American Clean-up, SEBA's Bluegrass Festival, and other downtown events. The Urbaniuk's are also considered instrumental to the success of Hometown Halloween on the Square in 2006, 2007, and 2008 due to their foresight and organizational skills.
If you are planning a visit to the Blairsville or North Georgia area, make reservations at the best motel in Union County. Seasons Inn offers friendly service, clean rooms, and southern hospitality at it's finest. Call toll free 800.901.4422 or email Colleen and Chris at seasonsinn@windstream.net today.
| Home |